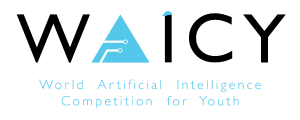 Join in the Final Competition
The final competition is open to everyone! We encourage individuals and schools to sign up for the competition in advance. Here is the Rubric for WAICY 2019.
Time: July 27th, 8:00 am to 5:15 pm.
Address: Nova Place, 100 South Commons, Pittsburgh, PA 15212
Fee: $170.00 per team
Agenda
8:00 AM – 9:00 AM     Registration
9:00 AM – 12:00 PM    Sessions and judging
11:30 AM – 1:00 PM     Lunch Break
1:00 PM – 4:00 PM      Sessions and Judging
4:30 PM – 5:15 PM       Ceremony
Host a Regional Competition before the Final
It's easy to join in. Schools and teachers can register for a competition. Don't see one in your area?  Ask about hosting a competition!
You can start your project at any point of the year. Find the nearest regional competition and participate. If you are a school or organization, you can start your own regional competition and bring your best teams to the national finals and the annual-final competition. The final competition will be held on Saturday, July 27th, 2019 at the Nova Place in Pittsburgh, PA.
WAICY 2019 Regional Competitions
Do you know K-12 students who are excited about using AI to solve real-world problems?
Form a team and join one of our WAICY 2019 Regional Competitions!